Online Clothing Store : 5 Successful Practices
Today's clothing online store is on trend in e-business. The traditional methods of controlling and selling are no longer discussed. The world is moving online, How will you run a successful online clothing store? What are the best practices for a successful online store? 
5 Successful Practices for Online Clothing Stores: 
Your online store should have easy and responsive navigation.

Your  online store should have a shopping cart

Your online store should have concise product descriptions and high-quality images.

Your online store should have a social media presence.

Your online store should be SEO Friendly.
1. Easy and Responsive Navigation
What does easy navigation mean?
This entails being able to browse between pages with ease and having a menu layout that is responsive and ensures that the audience stays engaged. 
As stated in small business trends, The most practical website element, according to 94% of respondents, is easy navigation. Users can locate the information they're seeking for much faster on a site that is simple to navigate. 
Maintain Engaging Web Designs
Make sure the design of your online clothing store is engaging, responsive, and appealing to your customers. Consider mobile compatibility, chatbot and put suggestions back to always track customer's feedback.
2. Shopping Cart System
An online shopping cart system is software that facilitates the purchase of a product or service. It accepts the customer's payment, merchant information, and payment processor. Check out button that works well can benefit both you and your customers. 
Selecting an online shopping cart
When choosing an online shopping cart for your online clothing store, think about the shopping experience. You want to make it easy for your customers to purchase and make the transaction straightforward.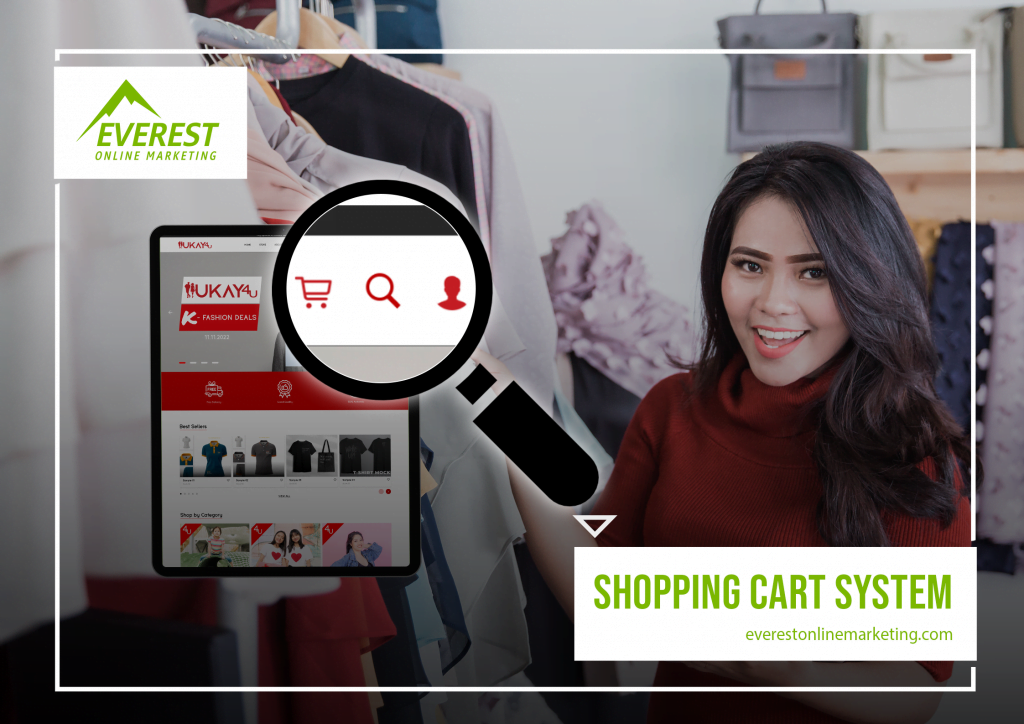 Two basic types of carts:
Hosted shopping carts: A third-party firm will be responsible for server backups, maintenance, and upgrades. The disadvantage of a hosted solution is that the customer will direct to another domain for payment processing.
Licensed shopping carts: This type of solution allows business owners to customize their own type of cart based on their needs. Yet, it requires more hands-on expertise for troubleshooting and technical support. 
Multiple Payment Options
Simplify your payment method on your online clothing store. Make sure that your customers have alternative modes of payment and the checkout process should be simple.  The consumer experience is important it will make them become repeat customers when they can make a transaction without bother or security concerns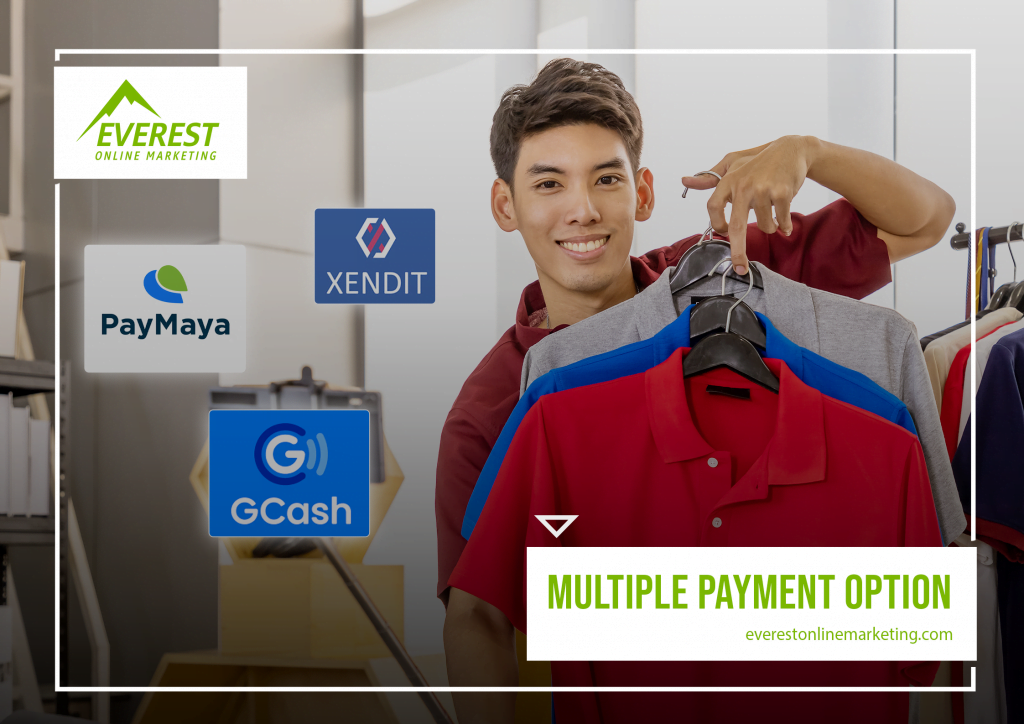 What is the benefit of multiple payment options?
Customers can pay for their purchases fast and smoothly, the payment is received instantly, the risk of non-payment is reduced and it allows payments to be simple. A hassle-free payment option will encourage customers to buy again. 
What are the modes of payment for an online store?
Cash on delivery

Online banking and e-wallet

Debit , Credit and Prepaid cards

Third-party services
3. Product Description and High-quality Images
Always remember that appearance matters a lot online. High-quality images for your products are necessary. You also need to write a concise description of your products. It drives a positive shopping experience for customers.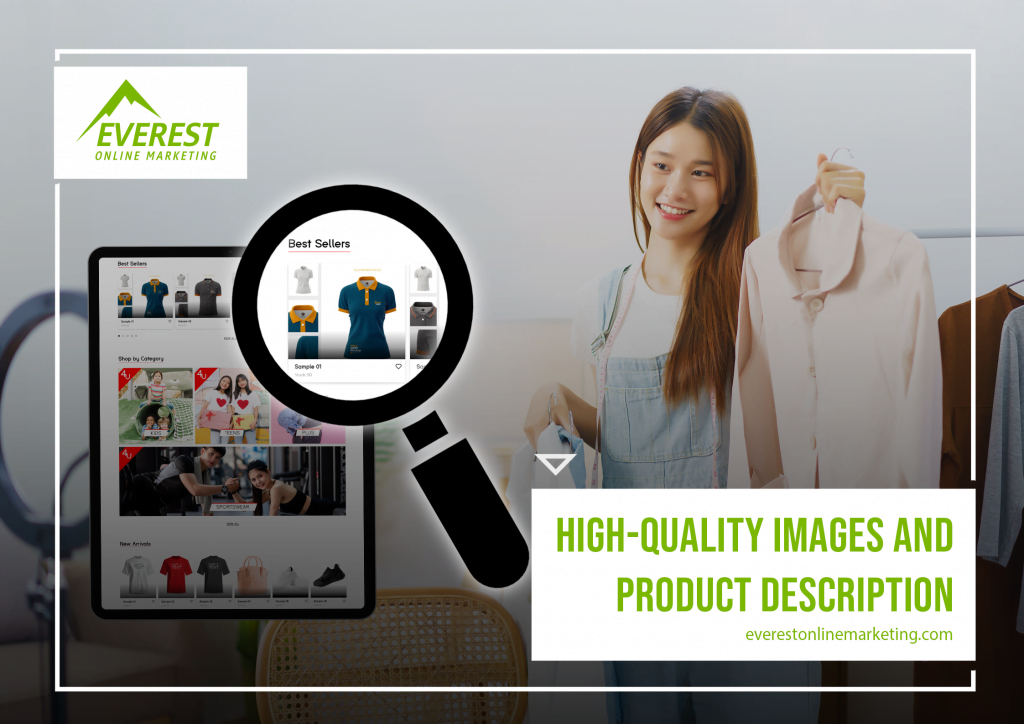 What are high-quality images for online clothing stores?
Your images should be unique and clear, with good quality. An image should be in the correct sizing for the platform. The image should enlarge to a size that shows the details of the product, such as the stitching, the construction, the texture, and the fittings. It's also important to consider the relevance of your image to your post.
Here are the recommended sizes for images;
4. Social Media Presence
Getting the right social media presence is essential for an online store. It helps you improve your visibility and interact with your customers. You may also share the feedback on your feed and announce promotional giveaways or sale items on your online store.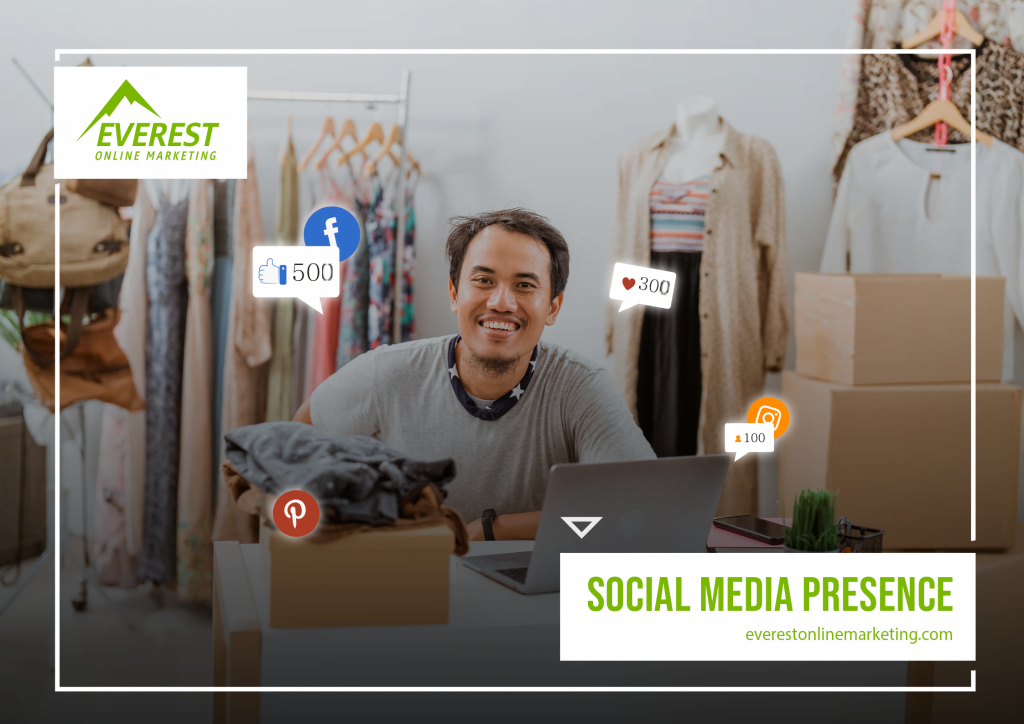 How does social media helps online clothing store? 
Social media has a broad of potential shoppers, it opens new methods to be able to connect with large audiences. Consider joining the community or groups that share the same interest or engaged shoppers. Learn effective social media marketing here.
What are the best social media platforms for a clothing line?
Instagram

Facebook

Twitter

Snapchat

TikTok

Pinterest
5. SEO Friendly
By using SEO tactics, you can make sure prospective buyers find you when looking for your items on search engines. Make sure your content gives priority to the keywords and phrases that correspond with your products and branding, from your homepage to your product descriptions.
What is local SEO?
Local SEO is the method of improving the online visibility of local businesses. This strategy is based on marketing your online store niche, products, and services to local leads and customers. Particularly, you're aiming to rank high in the search engine result pages (SERPs) for local searches.
You can improve your local SEO by:
Creating a business list on 

Google My Business

. 

Adding information about your business phone numbers and operating hours.

Adding a map to your online store.

Getting more reviews from your customers.

Sharing updates, responding to reviews, and uploading more photos.
Advantages of Having an Online Clothing Store
Selling thru an online store helps you increase your profit.

Broad audience and potential customers.

Customers can look at your products anytime and anywhere.

Lower cost compared to brick and mortar.

More access to the marketplace. 

Create personalized product listings.

Free promotion and marketing tools.
Start your Online Clothing Store with Everest Online Marketing
Starting your clothing online store is challenging. But with the right guidance, it's easier than you think. Make sure to consider the 5 successful practices for Online Clothing stores.
If you are aspiring to launch your own online clothing store, Everest Online Marketing is the right solution to go with. We can help you set up a customized e-commerce store that will scale your sales, thereby increasing your profit margins. We create responsive designs and navigation and help you create social media presence and SEO-friendly online store. Want to start now? Contact Everest Online Marketing today!
To learn more about specific strategies for online growth,  Contact us now! +63 917 150 9882