The food e-commerce website continues to deliver convenience every day. In people's daily lives, food is one of the basic necessities. Meanwhile, in the digital world, it is essential for a business to have a website to catch up with business trends. Most of our day-to-day actions are now associated with the digital world, and as a business owner, you clearly have to strive smartly to reach a wider audience.
Several businesses in brick-and-mortar structures had to discontinue their operations and even permanently close their doors to their customers during the COVID-19 pandemic. These are due to the strict implications of lockdowns, area restrictions, and transportation difficulties arising from the health concerns of the entire world. 
As these challenges in the business industry occur, organizations, corporations, and even entrepreneurs re-strategize their marketing plans and tactics to deliver their products and services to the market. During this time, several aspiring business owners and entrepreneurs pushed their luck to start their businesses.
Most of the time, brand awareness, marketing, and selling happen on popular social media platforms like Facebook and Instagram. Contrarily, business owners sell on well-known e-commerce platforms available in their country. It is because developing websites is not accessible to all people. Starters may prefer free e-commerce platforms.
In this blog, we'll talk about the top four benefits of having your own food e-commerce website and how it can help your business grow professionally over time.
What are Food E-commerce Websites? 
Food e-commerce websites, needless to say, sell food, beverages, and even grocery supplies on different online platforms. Business owners, entrepreneurs, or sellers' products vary from snacks, meals, drinks, groceries, and specialty luxurious items. Unlike other e-commerce websites that sell non-perishable items, food e-commerce websites are much more intricate. Food e-commerce websites should include all crucial details about their products. This includes essential information like expiration dates, allergen contents, and proper food handling instructions. Since their products are consumables, it is important to always remind your customers how to properly store a food item to retain its freshness, taste, and quality. Some beverages even include labels that say when it is best to consume the drinks. Brands should always ensure that ingredients will not taint or lapse.
In Asia, foodpanda is widely known as one of the most popular food e-commerce websites. They offer meals from fast food chains, milk tea parlors, restaurants, and even fresh produce and meats to serve all the food necessities of their customers. In the Philippines, they mostly provide food products from fast food chains and restaurants that fulfill a craving, a snack, or a daily meal for their customers nationwide. Besides that, they also offer groceries with a wide variety of food products to choose from. This begins with snacks, chips, fresh produce like fruits and vegetables, cereals, bottled beverages, and even cleaning supplies, which sums up an entire grocery experience.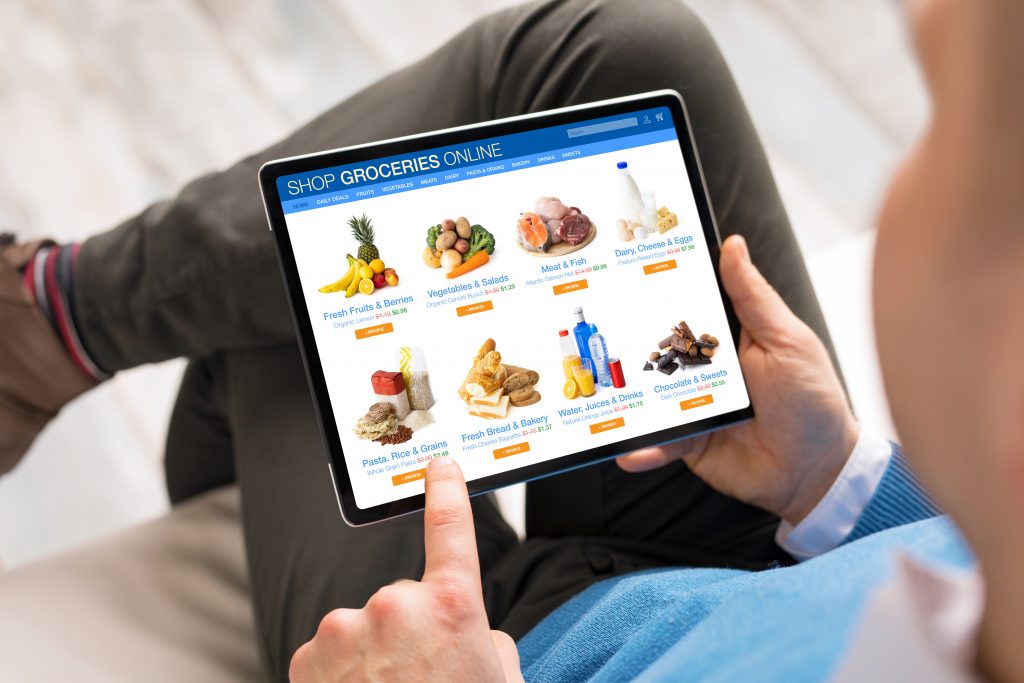 Important Features of a Food E-commerce Website:
A user-friendly navigation guarantees to give your potential customers a unique user experience. Not only will you save the time of your website visitors, but this will also make their browsing experience easier. Apart from that, it will help your visitors see what they need promptly and reduce the time wasted navigating a complex e-commerce website. This also implies a boost in purchase rates since users can easily find what they are looking for. With a good customer experience, customers will most likely build a relationship with your brand and create repeat touchpoints from then on.
Real-time and accurate product information
In food e-commerce, it is important to display accurate prices for products and their units of measure. Consumers need to know the value of the food product to determine how much they will need and to also establish trust and legitimacy on the business end. This also shows integrity by delivering only what is promised.
The online order processing system
An online order processing system shares and stores data on orders from customers. This ensures that bills and invoices are paid properly by the customers.
Easy and flexible payment options
There are a lot of modes of payment available in the business industry today. From cash, credit, and debit cards, online banking and wallets, and a lot more. Due to this, it is truly helpful for the business to provide easy and flexible payment options.
It is important to have something or someone available to answer inquiries and concerns. Website visitors, or your consumers and customers, may need to develop an emotional association with your brand. This helps them be more interested, engaged, and loyal to your brand and repeat purchasing activities. Both a service necessity and a marketing desideratum, customer engagement serves both purposes.
This e-commerce feature of delivery, shipping, and returns is essential to inform customers about the status of their orders. Oftentimes, a website visitor notices that e-commerce has poor delivery options. Needless to say, it is crucial to inform and assure the customer that they will receive the item in good shape and quality.
Loyalty and marketing programs
Loyalty and marketing programs attract the target market and drive customer retention. This is done by rewarding your customers for their repeat purchasing activities with your brand. Some of its benefits include an increase in sales and profits since purchases are more frequent than the first time. Customer retention due to loyalty and marketing programs also enhances the customer lifetime value and lessens churn in return.
Quality products with good visuals
By all means, any food e-commerce website features would be pointless without the quality and enticing products to offer. Food e-commerce websites should be appetizing and attractive enough for visitors to make purchases. Food products must be eye-appealing, with vivid photographs, and concise product descriptions. This may drive a huge profit since it is an essential part of our daily lives; either to fulfill basic human consumption or satisfy quick cravings.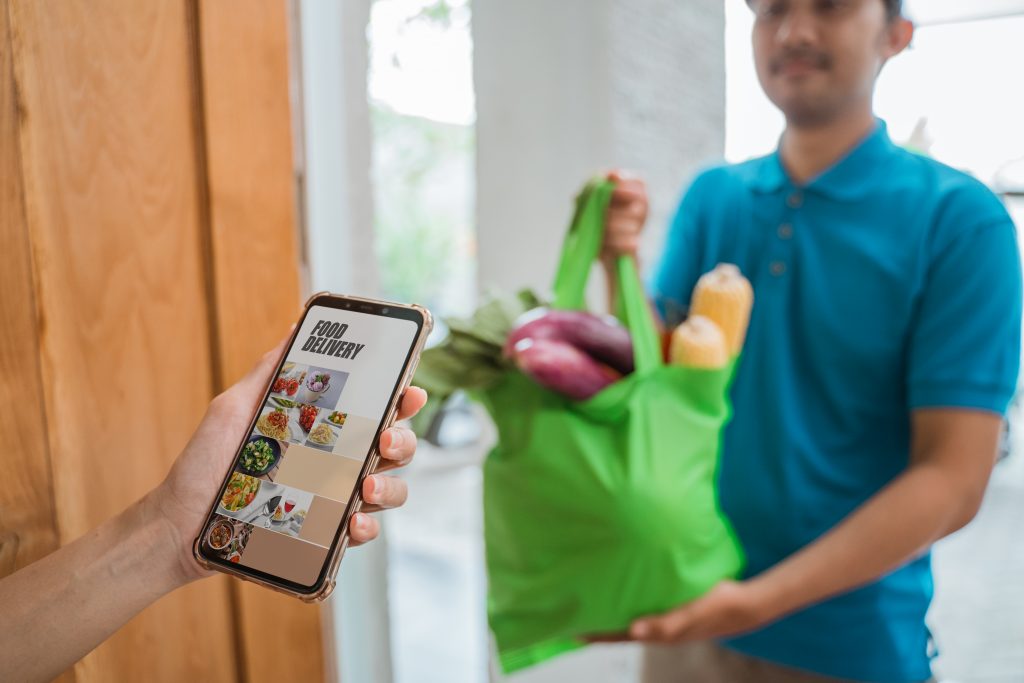 5 Perks of Having a Food E-commerce Website
With the help of the Internet, almost all of our day-to-day activities are easily accomplished with just a click. For business owners, it is essential to know the trends and be able to float with the stream of our modernized way of living. Trends come and go, but establishing a good foundation online would be truly advantageous for the constant modernization of your consumers' lives. Provided below are the top five benefits of having a food e-commerce website as a business owner or entrepreneur.
1. Growing demand for online shopping/ordering
Online shopping has been more in demand by all genders and almost all ages because of its convenience. Anyone can easily get what they need, whether it is a pantry essential, a full meal course, or a snack, all can be delivered to their homes without much effort. The ease that online ordering brings is beneficial to both business owners and consumers. According to eMarketer and Statista's study, retail market share will increase as global retail sales growth keeps rising. By the year 2023, projected that online retail sales will amount to $6.51 trillion, with e-commerce websites accounting for 22.3% of all retail sales.
2. Low-cost start-up and running expenses
Developing an e-commerce website costs a lot less than establishing a brick-and-mortar storefront. Launching an online business often involves paying for web hosting, domain names, web design, logo creation, and comparatively inexpensive sign-up fees for e-commerce platforms. Unlike, traditional brick-and-mortar stores that are only accessible to the market within their geographic reach, e-commerce websites can be accessed wherever the consumer may be at any moment they prefer. Selling your products online is also way cheaper than selling them in physical stores. Far from physical storefronts, food e-commerce websites imply limited overhead costs, maintenance expenses, and employees' salaries. Expenses would be reduced since the supposed expenses for rental, beautification, furniture, maintenance, labor work, and basic utilities would just be charged for domain hosting, electricity, Internet bills, and technical support. Food e-commerce websites also have a lot of display storage compared to brick-and-mortar setups, where space for product displays may be limited. 
3. E-commerce develops markets for niche items
The ultimate goal of food e-commerce websites or e-commerce, in general, is to create markets for niche products. Online, looking for a specific item would not cost you to visit a store from another. Food e-commerce platforms may be visible to a large grasp of the market with proper keyword optimization involved. Due to how simple it is to find highly particular goods and services on the Internet, e-commerce websites have a special chance to target a niche market. Additionally, an e-commerce website will guarantee higher Internet visibility for your products, expanding the clientele that your company can reach if you are aiming to target niche markets.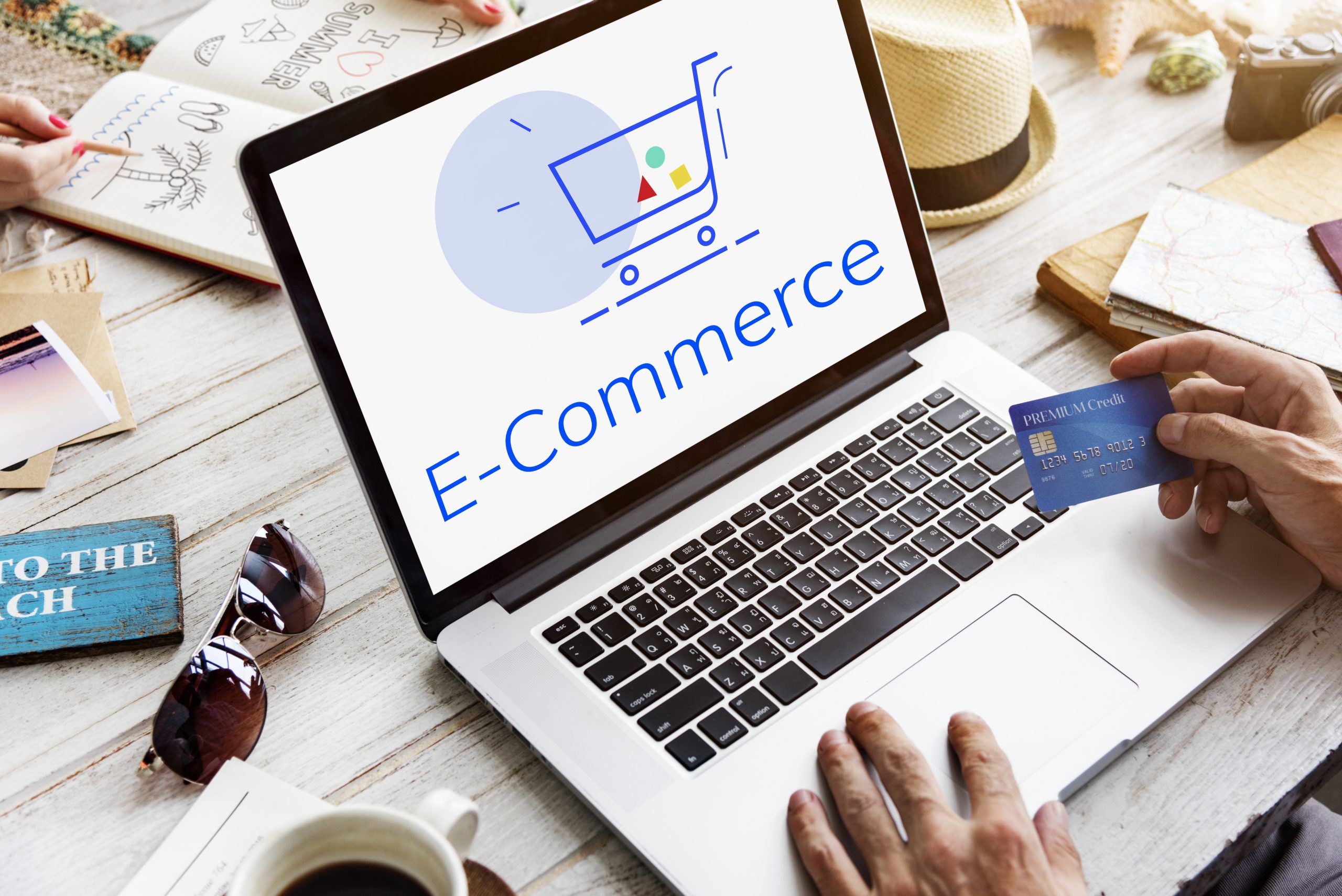 4. Reach customers globally and quicker customer data insight
Since the Internet is utilized worldwide, it is much easier to gain touchpoints with international-based individuals. When you place your business online, expect it to leave a digital footprint. Search engines like Google, use their algorithms to track a business's ranking in search queries with the use of their digital footprints. Once your business is established with its own food e-commerce website, you mostly need to focus on marketing, optimizing, and marketing your brand. Food e-commerce websites can also help open up remunerative opportunities to boost the business, its industry, the economy, and international trade. which boosts the e-commerce sector locally and globally. In this regard, customer data insight can also be easily monitored and recorded. Unlike a physical shopfront, data cannot be monitored accurately. With the help of the Internet and advanced technology, customer data insights from food e-commerce websites may help your business observe its success and failure rates. It is also very comprehensive to show the number of website visitors, the locations of the visitors, the time of visit, and a lot more data that helps the business grow.
5. No time restraint for business operations
Time restraints are common for brick-and-mortar businesses since not every entity can stay open all day and night. By having a food e-commerce website, your business can always be accessible to everyone, no matter the time of day. In cases where the public may want to see the menu in advance or check prices, your business will always be live online and available for viewing. For customer concerns, automated chatbots are popular these days, which allow your business to speak with a customer when no one is physically available to do so. Depending on the type of food products that you sell, a lot of clients may still be catered to for their basic food needs based on the operations of the business itself. Some food items may be delivered the next day once ordered, and food that is cooked may still be fulfilled when the company has ongoing food business operations.
Food E-commerce Website by Everest Online Marketing
It is difficult to find a reliable website development firm when you need one. The good thing is, Everest Online Marketing is here to help. With years of expertise, your vision for your own food e-commerce website will be within your reach. We may design and develop an e-commerce website that fills the hunger of your customers for an outstanding and appealing food e-commerce website to order from. Check this out and see how we can help you achieve your vision board of e-commerce success.