Real Estate Websites: 8 Reasons Why Every Agent Should Have One
In today's digital era, we have quick access to information and it's essential to have a solid online presence. The real estate industry has experienced a remarkable transformation as a result.  Professionals within this industry are leveraging technology to promote properties, establish ties with clients, and smoothen their business processes. The same rule applies when people are looking for their dream homes or commercial spaces.
As a real estate agent, have you ever considered what drives your digital progression? In this all-inclusive guide, we will explore why Agents/Brokers should have real estate websites and determine various methods for improving your business.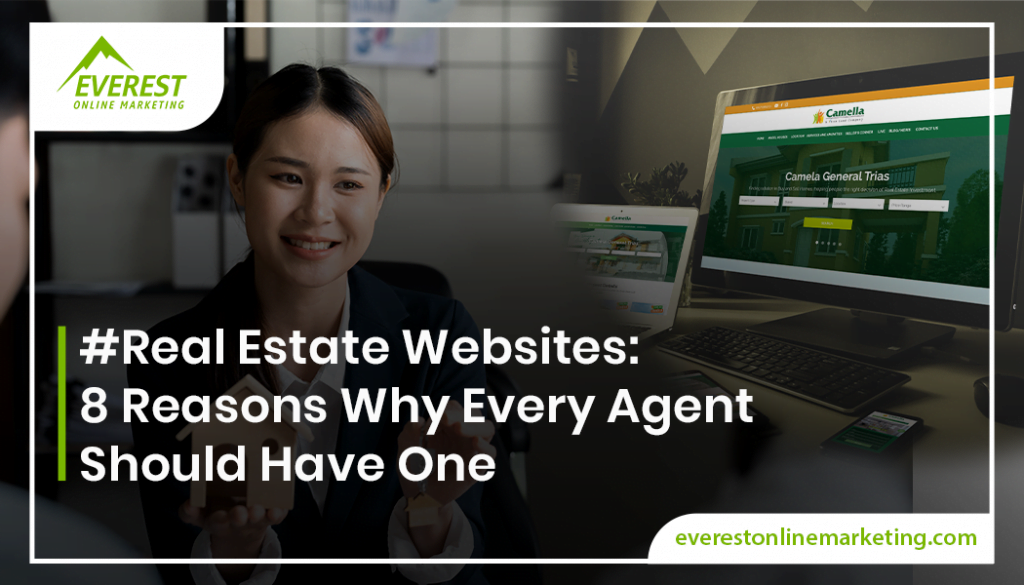 8 Reasons Why Every Agent Should Have Their Own Real Estate Websites
1.24/7 Visibility
A primary benefit of owning a real estate website is engaging with a worldwide audience. In contrast to conventional marketing techniques constrained by location, a website overcomes geographical and temporal barriers. It's like being available 24/7 without actually working around the clock. 
Having your website means there's always a digital door open for potential clients. Prospective buyers and investors globally can view your property listings, understand your services, and connect with you at any time. This around-the-clock accessibility caters not only to the needs of global clients but also enhances the conveniences for local prospects.
2. Cost-Effective Marketing Tool  
A well-designed real estate website serves as a cost-effective marketing tool. High-quality images, virtual tours, and detailed property descriptions can be easily uploaded to your website, reducing the need for printed materials.
3. Showcase Credibility and Professionalism
A real estate webpage can act as a center for essential market overviews and professional guidance. With insightful blogs, community pages, updates on real estate market progressions, and analysis of market trends, you establish your competence as an informed professional. Offering perspectives on purchasing patterns, potential investments and neighborhood market status attests to your dedication toward your client's achievements, reinforcing your credibility as a reliable consultant.
4. Easy Property Listing
A well-designed website helps in better organization and makes the search hassle-free for the clients.  A real estate website facilitates the ability to catalog and supervise properties, incorporating comprehensive descriptions, pictures, video content, and virtual walkthroughs. This significantly simplifies the property exploration process for potential buyers, allowing them to do so virtually.
 5. Lead Generation
Real estate websites are effective in generating prospective leads. Various features such as contact forms, chatbots, and inquiry buttons, are strategically placed across the site. These tools enable visitors to easily express their interest and share their contact details.
The collected data can be smoothly incorporated into Customer Relationship Management (CRM) systems. This integration simplifies the process of nurturing potential leads and personalizing follow-ups. With effective lead management, you can improve your conversion rates and cultivate enduring relationships with your clients.
6. Advanced Search Functionality
Maintaining visitors on your website is vital, and user experience plays a pivotal role in this aspect. By adding advanced search filters, users gain the ability to fine-tune their property search based on precise aspects like location, price range, type of property, and features. Simplifying the search for relevant property listings boosts users' overall satisfaction. Furthermore, it increases the chances of their return to your platform for other property searches in the future. 
7. Better Communication Channel to your Client
A website provides various communication channels, facilitating faster and better communication channels. In certain situations, it's possible to streamline online transactions like property reservations or payments, thus significantly enhancing the convenience for customers.
8. Social Media Integration
Establishing a cohesive online presence can be achieved by integrating your social media profiles with your website. This can effectively expand your reach and strengthen your brand recognition via tactics such as content cross-promotion, property listing sharing, and audience engagement across different platforms. Social media integration cultivates a community feel and promotes interaction with prospective clients.
Benefits of a Real Estate Websites
♦ Take full control- Your own personal website gives you a true home-based online presence. It allows you to personalize your techniques for selling and communicating with your potential clients. 
♦ Personalized Marketplace- With a wide variety of platforms to sell, having your own website makes you a unique Agent and enables you to build credibility while at the same time expanding your reach.
♦ Generate qualified leads- To get qualified leads you need a quality sales intelligence platform with your own website. Creating a contact form with the required field is one of the easiest ways to get leads like getting a person's name, occupation, contact number/email address or you may want to ask their budget for acquiring property.
♦ Limitless marketing opportunities- With endless opportunities to market your website and attract clients, you can explore various strategies such as content marketing, social media marketing, and SEO (search engine optimization). One effective approach is content marketing, where you can craft engaging blog-style content that highlights properties for your potential buyers.  
Key Features of Real Estate Websites
Mobile-friendly designs

Advanced Search Functionality

Clear Navigation

Listing and Mapping

High Quality of Images and videos

Contact form with Spam Protection

Search Engine Optimization (SEO)
Top Real Estate Websites Ranking in the Philipines
Based on the analysis of Similarweb for August 2023, the top real estate websites are as follows:
Get your Own Real Estate Website at Everest Online Marketing
The benefits and advantages of having a real estate website are vast and diverse. From expanding your reach and enhancing credibility to providing immersive property experiences and streamlining lead generation, a website has become an indispensable tool for real estate professionals. In an increasingly digital world, the presence of a well-designed and user-friendly website not only amplifies your business but also solidifies your position as a forward-thinking and client-focused real estate expert.
If you are looking for a company that will guide you to have a real estate website look no further Everest Online Marketing offers budget-friendly packages that will unlock the full potential of your real estate endeavors with a professional website.  Wanna get started having your own real estate website? Contact us today!
Visit our FB page: https://www.facebook.com/EverestOnlineMarketing